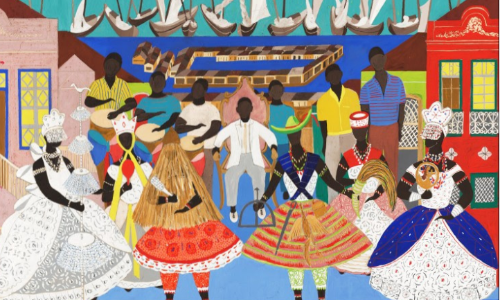 The
Modern African Diaspora Experience
(MADE) is now live for the public to visit. The online museum is the brainchild of Joyce Barnes, an associate professor of English at Sinclair Community College, and her cofounders, Karol Brown, Kathy Banks and Esu Ma'at.
"MADE is an online platform for
people interested in
the African-Atlantic Diaspora," said Barnes. "We're always aware of disasters, unrest in the Caribbean, South America, North America. This platform will celebrate what's dope, what's going on with artists, business owners, everyday people, students."
MADE experienced a few setbacks along the way as the team had to delay its launch to the end of August due to a lack of resources to produce content. "I wanted to make sure we had content developed or linked for each of our subpages, so we needed more time to turn that around," she explained.
Despite the setbacks, MADE's team was able to adapt and rise to the occasion. "We worked through the week and on weekends," said Barnes. "We put a process in place to file and track submissions while using technology to expedite that process."
MADE's launch is dedicated to the memory of
Chadwick Boseman
, known for his lead role in Marvel's "Black Panther," who died three days before the museum's debut. "There would be no MADE if it weren't for the movie 'Black Panther,' so losing Chadwick Boseman was just heartbreaking," she lamented.
Outside of the special dedication, paintings by Patricia Culbreth are a favorite for Barnes. "She paints an alternate image of iconic photos from America's brutality toward African Americans," she reflected. "They are striking images, and her interview [on the
Culture page
] explains how she came up with the idea.
Another one of Barnes' favorite parts of MADE is the "Learn from Kids" video series where students in grades K-12 submit a video sharing what they've learned or their experiences in school. The first video was edited by her 13-year-old granddaughter.
People visiting MADE have a lot of special content to look forward to in the coming months. Notable content coming to MADE include a Diasporapedia — an encyclopedia of the history, culture, and people of the 40+ countries featured on the website — a short film about this year's Juneteenth and a podcast about Brazilian entrepreneurs.
In an effort to build its audience, MADE is offering free memberships during September and a chance for members to win $50 to $100 gift cards to our MADE affiliates and the MADE store.
---
More General Spotlights